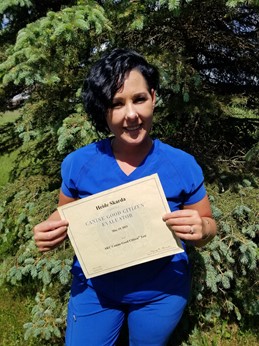 My name is Heide, I started at Eagle River Animal Hospital in 2019 working as a Veterinary Assistant. I live in Eagle River with my husband, Jason, and three kids, Christopher, Addy, and Ava Jo. I share my home with two pups, Venus and Zeus. In my spare time, I love to conquer fitness goals and I have completed an ultramarathon. While working at Eagle River Animal Hospital, I learned many things. Animal behavior was something I wanted to learn more about.
My love for animal behavior and training began when I rescued a puppy that I named Zeus. Zeus had severe injuries and needed daily bandage changes.  When I started working with Zeus, we had an instant connection. That relationship inspired me to help others to find that connection with their pets and in 2020 I started a training program with "Pawsitively Unleashed", a dog training business in central Wisconsin.  I cannot wait to continue to grow and learn as a "Canine Coach" and help owners find their pets' purpose and create a strong pet & owner connection.
My mission is "To find purpose in every dog and give the owners the tools to perfect it".
I can help you with:
Puppy classes – Adult dog classes – Aggression  – Food guarding  – Walking/leash pulling  – Anxiety  – Crate training  – Biting – Trick training  – Chewing – Adjusting to a new baby/family member  – Adjusting to a new pet  – Dog/cat aggression  – Coming when called  – Nervous behavior – AKC certifications (Good Citizen, S.T.A.R Puppy, Urban and/or Community Citizen, Trick Dog)
AND SO SO MUCH MORE!
Group Classes
Get to know other pet parents just like you, offer your dog some much-needed interaction, and learn everything you need to know to enjoy your dog for many years to come!
​My force-free, positive reinforcement and reward-based group classes are perfect for the family who wants to have fun and consistent guidance for training their dog. This makes training much faster and more effective than it would be on your own.
Class size is limited for a more personalized time for each dog.
Puppy Class
This is a 6-week course for puppies 6 – 16 weeks of age. We meet Mondays at Eagle River Animal Hospital. This is a 30-minute class. Call for the next class season start date.
Potty training and crate training instruction​ as well as help with biting, chewing, and other puppy behaviors

Cues and Behaviors: Focus (watch me), sit, down, leave it, come, loose leash walking, sit-stay, down-stay, meet & greet, and recall
Advanced Puppy Class
This is a 6-week basic manners training class for teens (16 weeks – 1 year of age). We meet Mondays at Eagle River Animal Hospital. This is a 30-minute class. Call for the next class season start date.
Help with jumping, excited greetings, pulling on the leash, and more

​Cues and Behaviors: Focus (watch me), sit, down, leave it, take it, drop it, come, loose leash walking, touch, sit-stay, down-stay, meet & greet, and wait
Adult Class
This is a 6-week intermediate training class for dogs who have mastered basic training or have completed Puppy and/or Advanced Puppy class. We meet Mondays at Eagle River Animal Hospital. This is a 30-minute class. Call for the next class season start date.
For dogs who are ready for the next level of training, focusing on the 3 D's of training – distance, distractions, and duration

Cues & Behaviors: stand, backup, return to heel, heel, heel with turns, sit-stay with distance, down-stay with distance, touch targeting with objects, relax on a mat, and come when called with distractions
*Each dog is required to be up-to-date on age-appropriate vaccinations (Rabies, DHPP, and Bordetella).
*This is a positive reinforcement-based training class. Prong collars, choke chains, and other shock/e-collars are not permitted in this class.
*Bring lots of treats, your dog on a 6-foot leash and a great attitude and ready to have fun.
Scent Class
Scent work is great for:
Busy dogs with energy to burn.
Shy or puppy mill rescue dogs for a great boost of confidence.
Old dogs would love a low-impact activity to keep them engaged.
Dogs who may need a little space around other dogs. Dogs work one at a time.
Scent work is easy to teach and fun to train. The only equipment is a few scented Q-tips and a dog that loves toys or food. Scent work is great for city dogs because training can happen anywhere.
Each class runs for 30 minutes for six weeks. Most dogs can start hunting independently for a target odor in about 6 weeks.
Scent Training level one
You will get a peek into scent theory and learn how to teach your dog to tell you the location of a hidden scent. This is the same way detection dogs across the world are taught to alert to bombs, drugs, agricultural items, and medical issues. The goal of this six-week course is for dogs to love the game of searching and to build the foundation to be able to find a hidden target odor.

This group class is not appropriate for human or dog aggressive dogs. Many of those dogs can gain confidence through private scent work lessons in conjunction with behavioral modification work. Please contact me to arrange private sessions or if you have any reservations about your dog's ability to be in a room with other dogs and people.

Scent Training level two
Introduction to Odor pairs the game with an odor. The class advances the dog's scent discrimination skills taught in level one. All dogs are taught to identify the same scent, a natural essential oil. Additionally, we introduce techniques and tactics for building better dog/handler teamwork.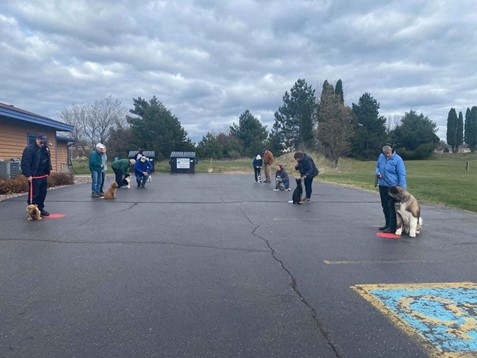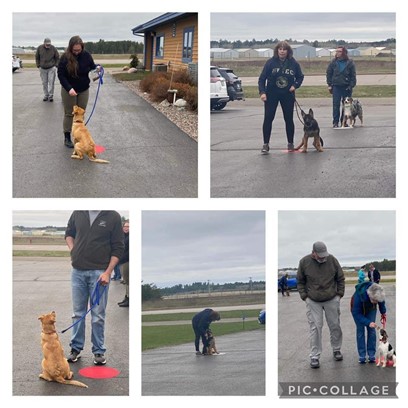 In-Home Private Training
Looking to be actively involved in the training process, and love personal attention? Then canine coaching is for you! 
Through these private training programs, we will guide you through the process of training your dog in the comfort of your home. In this traditional approach to private training, we show you how to teach your dog new cues and behaviors, then you work with your dog in various settings to make them more reliable.
Our appointments are usually spread out about a week or two apart so it gives you some time to work with your dog on your own. Depending on what we are working on, we can even meet in a public, dog-friendly location! 
I have experience and love working with dogs who are shy, fearful, reactive, and aggressive, as well as those with other behavioral issues such as counter surfing, greetings at the door, and more! 
*An evaluation/consult is required before starting any private training program.
*Each lesson is approximately 30 minutes. Prices are subject to change and there is an additional mileage fee.
Before beginning any private training program, I like to start out by either having you come to Eagle River Animal Hospital or us meeting you at your home for an evaluation. This gives us a chance to meet and talk more in-depth about your goals for your dog, and gives me a chance to meet your dog. After our meeting, I will be able to recommend the best way to proceed with training – whether it is a standard training program I offer, or a custom training program we put together just for you.  
I have a variety of options for private training including training at Eagle River Animal Hospital, training in your home, virtually, or meeting in a public location such as a park or dog-friendly store.
A.K.C Certifications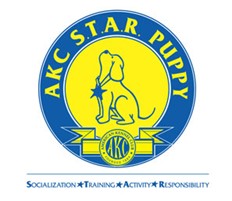 The S.T.A.R. Puppy is an exciting program designed to get dog owners and their puppies (one year and younger) off to a good start. S.T.A.R. Puppy is a natural lead into the AKC Canine Good Citizen.
Both S.T.A.R. Puppy and CGC is open to all dogs of any breed or any mix breed.
What is Canine Good Citizen (CGC)?

Give your dog a step above the rest with the Canine Good Citizen certification! Working toward this certification is good for those with previous training. It is commonly the first step needed for your dog to become a therapy dog. It can also give you the opportunity to brag that your dog is a good citizen of the community!
There are 3 levels of testing:
Canine Good Citizen

Community Canine

Urban Canine Good Citizen
Each test consists of 10 items, and you must pass all 10 items to pass the test. You may use verbal and hand cues as well as verbal praise, but no treats or corrective methods (including corrective collars or harnesses). There is no age limit for dogs to be able to take the test. They need to have all the necessary vaccinations. It is recommended that your dog be tested again as an adult if you tested them as a puppy, as behavior and temperament can change with age.
The ideal dog is confident, well-rounded, and unafraid. He/she must be good around people and dogs of all ages. We will typically meet in a park, a pet-friendly store or here at Eagle River Animal Hospital to complete each test.
Interested in training for the CGC?
We can help you train for the CGC test through private training lessons, or through our other group training class.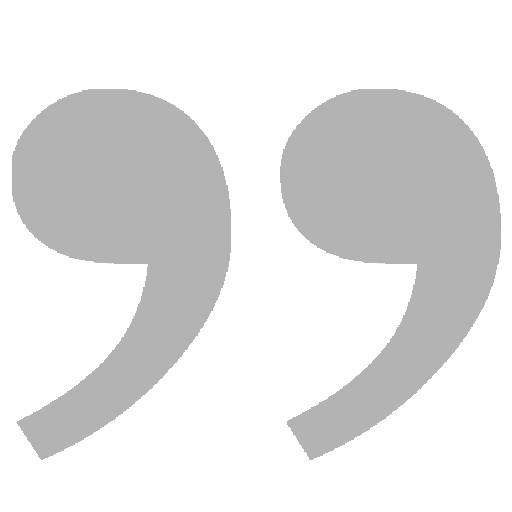 Ginger and Gunner LOVE ❤️ all the vets and staff at Eagle River Animal Hospital!!! They are so loving, caring and are truly concerned!!! We have spend allot of time with them and both dogs didn't start out very nice with them but have grown to trust and love them!!! Would recommend this place to anyone!! Thanks for all the great care for my fur babies!! 🐶❤️🐶❤️
BILLIE JO
Facebook Review