EAGLE RIVER ANIMAL HOSPITAL
OUR DEDICATED TEAM
Whether it's routine preventive veterinary care or an unexpected emergency, you'll find the supportive atmosphere and attentive compassion you expect for your loyal and trusting companion. 
We are here for you.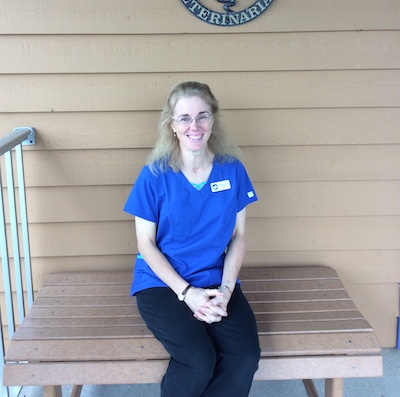 Dr. Katie Hom
DVM
Dr. Katie is originally from Duluth, MN and graduated from the University of Minnesota College of Veterinary Medicine.  She began practicing small animal medicine in the Brainerd Lakes area in a practice that also operated a wildlife rehabilitation program. Labradors to loons, beagles to badgers; all helped to develop a broad application of medicine across many species.
She continued to practice part-time while raising her three children in Ashland, WI and eventually moved with them to Eagle River in 2009. Five years later, she became owner of the Eagle River Animal Hospital. Her clinical interests include acupuncture and animal behavior to further support health and well-being in her patients.
She lives and fills her spare time on a hobby farm where she can enjoy her two horses and two cats. One day she will find time to return to quilting, reading and gardening, but not yet.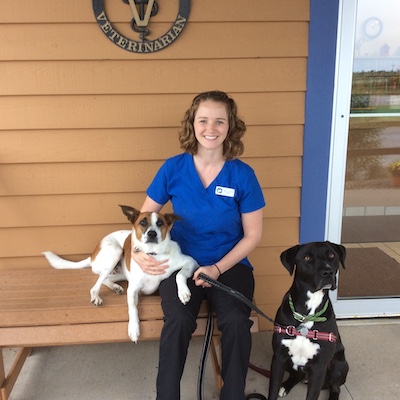 Dr. Mary Camp
DVM
Dr. Mary grew up in St. Germain, WI, with her 6 siblings and parents. She attended Northland Pines, where she met her middle school sweetheart, Dr. Brad Camp, a local dentist. After graduating veterinary school from the University of Wisconsin in 2013, they moved back home to the Northwoods. Dr. Mary has two rambunctious young boys (Nicholas and Colin), two oversized lap dogs (Lambeau and Lilo), two barn cats (Shere Khan and Her-meow-ne), and a small flock of layer chickens.
In her free time, Dr. Mary enjoys spending time with her family and friends. She loves being outdoors, hiking, swimming and camping in the summer, then cross country skiing and sledding in the winter. She has been lucky to join a sand volleyball league during the summers as another way to stay active in the beautiful Northwoods. Most days she explores her own backyard with her family and pets. When she gets a few free minutes to herself, Dr. Mary enjoys reading. She is happy that both of her boys have taken after her love of books, and she is already introducing Nicholas to the world of Harry Potter.
Dr. Mary began her career shadowing and then working for Dr. Dan Paretsky at the Eagle River Animal Hospital before attending college. With a little push from those around her, she ultimately decided to become a veterinarian herself. Her favorite part of veterinary medicine is getting to know her clients and hearing the stories they share with their furry family members. She has a special interest in dermatology, basic soft tissue surgery, and ultrasonography. Dr. Mary has recently begun expanding her skills with ultrasound and looks forward to developing in this area of medicine. She enjoys the challenge of difficult cases, learning more with every case so that she can best help her future patients live long and healthy lives. Dr. Mary has been a veterinarian at the Eagle River Animal Hospital since June 2014.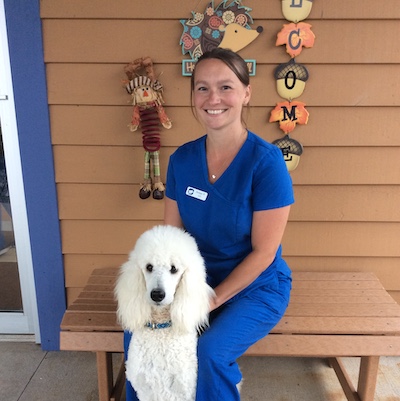 Amber P.
Practice Manager, Certified Veterinary Technician
Amber has worked as a technician for over 10 years and has been at Eagle River Animal Hospital since 2014. She enjoys client education and patient care. She lives in Sugar Camp with her husband Greg, their three children, and Standard Poodles named Rose and Violet. Amber also has a hobby farm with chickens, ducks, geese and turkeys.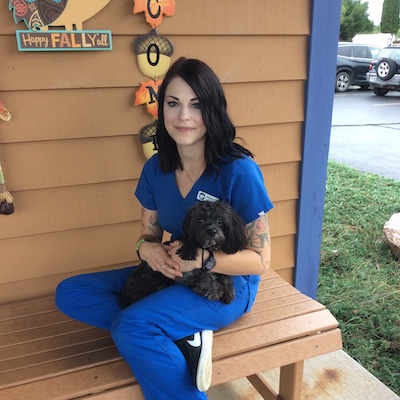 Monica O.
Certified Veterinary Technician
Monica has been a member of the Eagle River Animal Hospital team since 2015. She loves the fast-paced environment of working in the hospital and making a positive difference in the lives of animals and their owners. Outside of work she enjoys spending time with her family and being outdoors. She has a daughter named Lennon and three dogs (Malakai, Molly, and Bentley), two cats (Baby and Maximus), and three Ferrets (Biggie, Smalls, and Orphan Annie).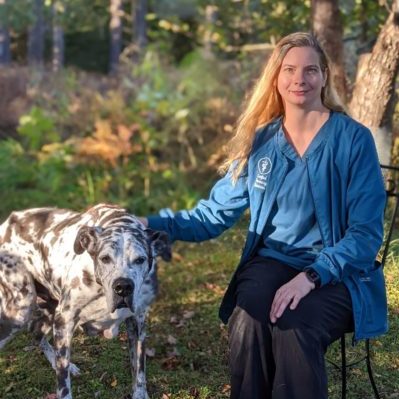 Rachel B.
Certified Veterinary Technician
Rachel a 2007 MATC graduate has moved back to her roots, the beautiful Northwoods in 2021. She loves seeing the human animal bond everyday as the clinic, which follows through in patient care. She lives with her better half and their son. Plus, of course their Great Dane and ever growing poultry farm, In her free time, she loves spending time gardening, kayaking, fishing and snowshoeing with her family.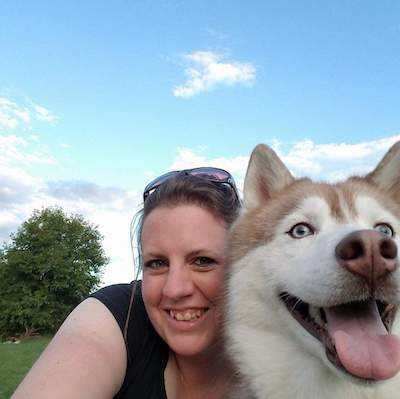 Heidi D.
Veterinary Assistant
Inspired by a love for animals since "the day she was born," Heidi has been working in the veterinary field for almost a decade and joined our hospital in 2019. A lifelong resident of Muskego, WI, she and her family recently moved to the Eagle River Area, along with a husky named Denali, a morkie named Kenzi, cats Charlie and Houdini, and a Holland lop rabbit called Angel. When she's not working, she enjoys going on the water and soaking nature in, fishing and exploring the Northwoods.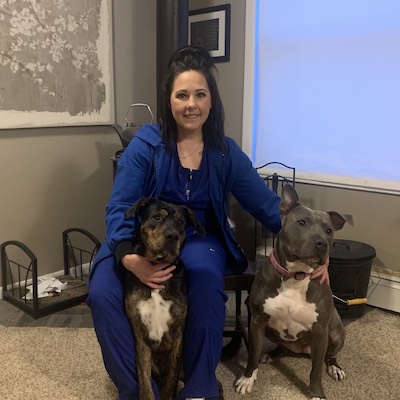 Heide S.
Veterinary Assistant / Canine Coach
My name is Heide, I started at Eagle River Animal Hospital in 2019 working as a Veterinary Assistant. I live in Eagle River with my husband, Jason, and three kids, Christopher, Addy, and Ava Jo. I share my home with two pups, Venus and Zeus. In my spare time, I love to conquer fitness goals and I have completed an ultramarathon. While working at Eagle River Animal Hospital, I learned many things. Animal behavior was something I wanted to learn more about.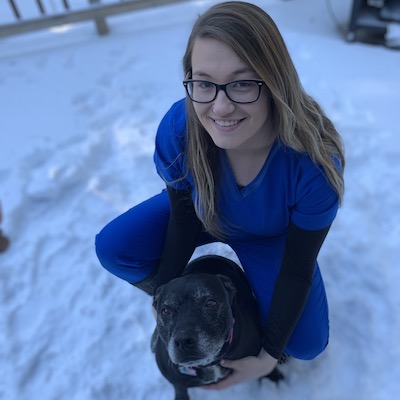 Amanda D.
Veterinary Assistant
After working at a daycare/boarding facility in southern Wisconsin, Amanda moved to Three Lakes with her pup, Susie, and joined the Eagle River team. In her free time she loves to be outdoors and explore all the beauty there is to offer in the area while working towards her Dental Hygiene degree.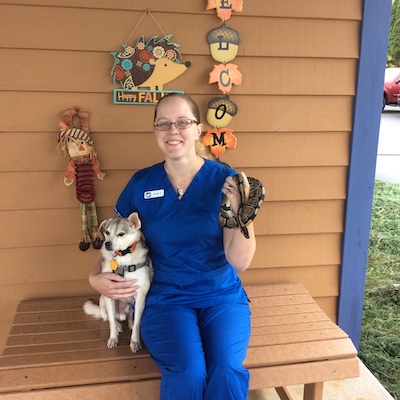 Sarah Z.
Veterinary Assistant
Sarah originally joined Eagle River Animal Hospital in 2001. After leaving in 2009 to attend college she returned in 2014 as a receptionist, and as of 2021 is a veterinary assistant and is in school to become a CVT. Sarah lives in Eagle River with her dog Rory, two cats Boober and Raven, and several ball pythons. She's hoping to add more exotic pets to her family in the future. In her free time, Sarah enjoys reading, writing, rockhounding, and making jewelry.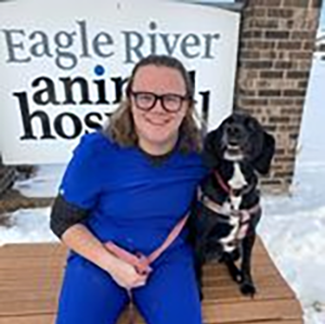 Gabby
Veterinary Assistant
Gabby has been working in the veterinary field since 2015. She moved back to the Northwoods after college and currently has one dog, Phoebe, and a cat, Oliver. In her free time, she enjoys reading, fishing, hunting, and being outdoors.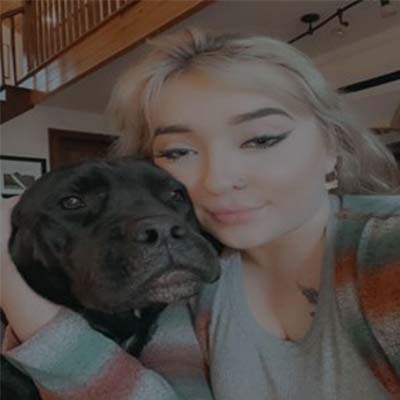 Lizzy
Kennel Assistant
My name is Lizzy, I was hired at Eagle River Animal Hospital in 2022 as a Kennel Assistant. I am originally from Lake Geneva, WI. Since I was young, I always had a passion for animals. I grew up with 4 dogs, 5 cats, and 3 gerbils. Before working here, I was a daycare teacher, and a bartender. In my spare time, I enjoy spending time with my 2 dogs, King, and Shiloh, gardening, and watching horror movies. I am also starting college in the fall for Radiography. While I study, I will be working at Eagle River Animal Hospital.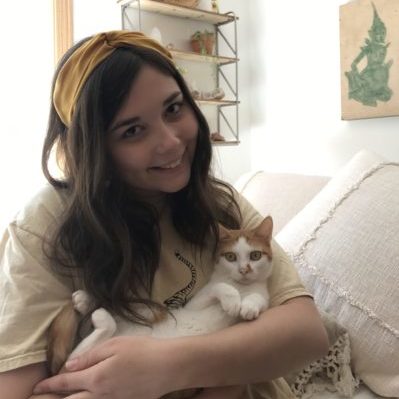 Mary F.
Receptionist
Mary was hired as a receptionist in 2021.  She was originally from Mequon, WI, but moved up to the Northwoods with her family in 2017.  Growing up, she spent her summers working on her grandfather's horse barn, so her passion for animals sparked at a very young age.  Today, she is working on completing her prerequisites for vet school.  That said, she is very excited to learn more about The Eagle River Animal Hospital, their patients, and their clients.
When she is not studying, she enjoys painting or snuggling up with her two cats while enjoying a good book.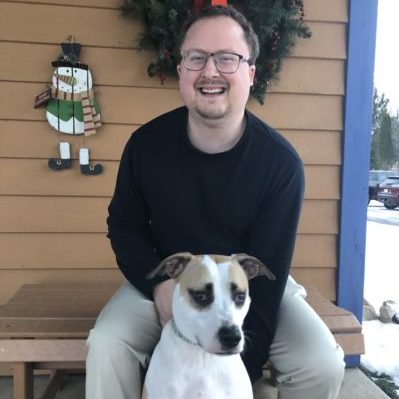 Dillon
Receptionist
Dillon joined the Eagle River Animal Hospital team in 2021. He moved up to the Three Lakes area from northern Illinois with his wife Catherine and their dog, Abu. In his free time, Dillon enjoys fishing, hiking, and skiing. Dillon is excited to welcome clients and pets after leaving the National Guard in 2020.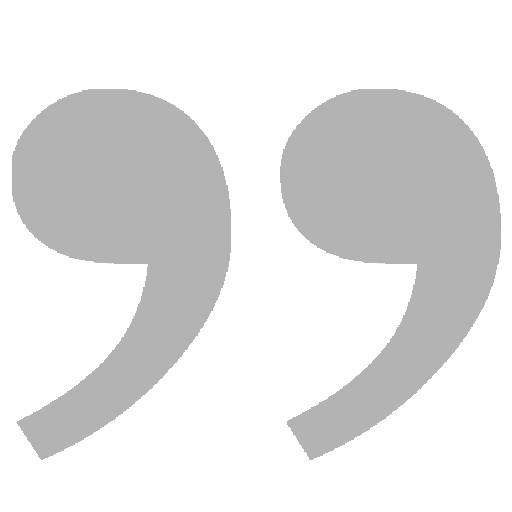 They have a very kind staff always welcome the animals and show much love to them and the service is always the best😇😇Amazing animal hospital !!!
Chyna W.
Facebook Review